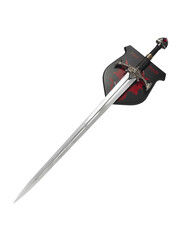 House of the Dragon handelt von der Familie Targaryen, die Westeros 300 Jahre lang regierte. House of the Dragon" beginnt etwa 100 Jahre nach der Herrschaft des Hauses Targaryen.
Die Zuschauer von Game of Thrones wissen, dass die Targaryen-Dynastie durch Roberts Rebellion, einen Bürgerkrieg, in dem Robert Baratheon den "Irren König" Aerys Targaryen als Herrscher der Sieben Königslande ablöste, praktisch beendet wurde. Zu Beginn von Game of Thrones, 17 Jahre nach der Rebellion, gibt es nur zwei bekannte Targaryens: Daenerys und Viserys. In Game of Thrones waren die Targaryens ein ehemals großes Haus. In House of the Dragons erleben wir sie als das große Haus.
Zumindest eine Zeit lang.
House of the Dragon" zeigt den Anfang vom Ende der Targaryens. Es folgt dem, was in der Überlieferung von Das Lied von Eis und Feuer als Tanz der Drachen bezeichnet wird - ein Bürgerkrieg, der ausbricht, nachdem zwei Targaryens gegensätzliche Ansprüche auf den Eisernen Thron anmelden. König Viserys hat seine Tochter, Rhaenyra Targaryen, zu seiner Nachfolgerin erzogen, aber nach Viserys' Tod wird Aegon, der älteste Sohn seiner zweiten Frau, zum neuen Herrscher gekrönt.
Dies löst einen Krieg aus, in dem viele Drachen und Targaryen getötet werden.