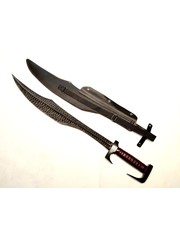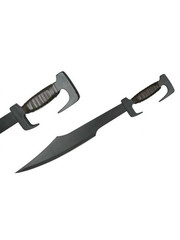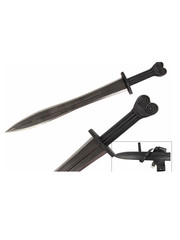 300, the history-inspired memorable saga, recounts the chronicles of the 300 Spartans who stood fast against the massive Persian army of over 100,000 soldiers.
Inspired by the infamous Battle of Thermopylae, the 300 comics and movies are a fictional retelling of the settings and events leading up to the battle and the courageous yet ferocious fights that ensued during the battle. The weapons depicted in 300 play as important a part in the story as the characters. The collectables of the infamous weapons and blades of this tale are available for fans of the 300 action films by Zack Snyder and the 1998 comics by Frank Miller. 
In 300, the depicted weapons are just as crucial to the plot as the main protagonists. The swords wielded by Spartan King Leonidas and his soldiers have become a symbol of fortitude and heroic sacrifice. The 300 collectable swords are the perfect choice for avid fans to remember and embrace the story and its memorable characters, sharing their love and enthusiasm with the larger 300 fans and collector community.
The 300 series collectable swords are made of dulled blade steel metal and feature designs used by Spartans, Athenians, and Romans on the battlefields and in legendary arenas. These swords are statement pieces that can become the focal point of any costume, room decor, or set design. Each sword features intricate crafting details that make it stand out. These Spartan blades can be displayed on sword stands and katana holders that can be bought directly from our website. 
There are a variety of 300 collectable swords available to match a wide range of settings and buyer preferences. Each sword features a distinct blade and hilt style that can be used to create an authentic user experience.
Hold the 300 collectable swords in your hands and invoke the true feeling of yelling out the words, "THIS IS SPARTA"!