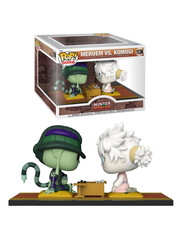 Hunter × Hunter
The Hunter x Hunter series ranks as a top-selling manga in the international market. Created by Yoshihiro Togashi, the recipient of prestigious manga creators' awards including the Tezuka Award and the Shogakukan Manga Award, the Hunter x Hunter manga series has been translated into many other mediums, including animated television series, original video animations, anime feature films, and video games.
Hunter x Hunter tells the story of Gon Freecss, a young hunter who, along with his group of trusted friends, enters the complex world of hunting rare animal species, treasures, and even criminals. Gon became a licensed Hunter to find his father, who was also a world-renowned Hunter. Gon's friends play an important role in his quest for greatness, and together they embark on adventures to achieve their personal goals and serve the noble purpose of saving the world.
The collectibles from the Hunter x Hunter series are as endearing as the characters themselves. Featuring the signature costumes and poses of their original counterparts, the Hunter x Hunter collectibles are perfect memorabilia pieces for the series fans.
The Hunter x Hunter collectibles are also available in the Funko POP series. These affordable collectibles are super-cute, super-fierce, and without doubt, eye-catching. The most popular collectible figures include those of the leading characters, like Gon Freecss, Kurapika, and Killua Zoldyck. Collectable Gon, with his signature spiked hair, is ready to unleash his power; while Kurapika is conjuring his magic chains and is ready for combat; and Killua, a descendant from the infamous family of assassins, is posing with his signature bolts of electricity surrounding this collectible figure.
Other highly rated character collectible figures from the Hunter x Hunter series include those of Kite, holding his Scythe, and the two-pack POP-Up Moments figure featuring Komugi and Meruem engaged in an intense game of Igo.