51% Sale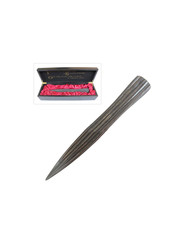 "Buffy the Vampire Slayer" was not just a TV show. It was a phenomenon that still dazzles, and draws comparisons for its brilliant storytelling and steady character development. It revolutionised the TV-watching generation of a whole era with its influence. Featuring a female lead, Buffy, as the main protagonist, it was one of the top-rated TV productions that successfully showcased many strong female characters in the starring roles.
Created by Joss Whedon, "Buffy the Vampire Slayer" tells the story of Buffy Summers, a high schooler belonging to the sacred bloodline of women with a mystical calling who were chosen to fight the forces of evil. Once she accepted her fate and embraced her role as the "Slayer," her physical strength increased exponentially to meet the demands of her new "Job." Along with her mentor, the Watcher, and her trusty group of friends, Buffy fought and fended off the evil supernatural forces plaguing their city.
The series began airing in 1997 and, after seven successful seasons, ended its production in 2003. The popularity of Buffy the Vampire Slayer series, however, generated several tie-in products, including comics, YA novels, video games, and even an entire spin-off series, Angel.
Due to their iconic status, the cosplay outfits and collectables from the Buffy the Vampire Slayer series continue to be very popular. The weapons wielded by Buffy during her many vampire-hunting escapades continue to fascinate genre enthusiasts. Buffy's vampire-slaying gear collectables are iconic pieces that enthrall series fans and even awe new viewers.
The most popular Buffy the Vampire Slayer collectables include Slayer's Stakes and Scythe. The stakes are made of resin and packaged in a sturdy wooden box for maximum effect. Buffy's collectable Slayer Scythe is available in life-size dimensions and made of resin with a metal core for endurance. This signature vampire-slaying scythe features all the details of the original, and its impressive size makes it a sight to behold.