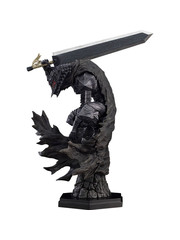 Fans of the Seinen mangas have unilaterally termed "Berserk" as one of the darkest yet most compelling manga series of its kind. The storytelling and art style in "Berserk" not only keep the readers invested in the journey and fates of all the characters but also retains the nightmarish feel of the scenarios and imagery, making them a harder read yet impossible to put down.
Kentaro Miura, the author and illustrator of Berserk, cleverly used medieval settings to augment the dark themes and stories told in the manga. The characters, costumes, and weapons from Bersek have iconic status in the world of Japanese manga lovers, and the collectables for this series are always in hot demand. 
The most beloved character of the series, Guts, is Berserk's lead protagonist and the infamous anti-hero. The deeply tragic yet relatable backstory and the enigmatic rise to power have made Guts one of the most beloved manga characters, with legions of fans actively on the lookout for his collectables and cosplaying his character faithfully year after year. 
The collectables for Berserk include the main characters of the manga, including Guts and Griffith. The most popular Guts collectables are styled with him wearing the Berserker Armor and wielding his humongous sword. The collectables featuring the Berserker Armor are especially liked by devoted manga fans because of the signature backstory associated with it. The armor forged by a dwarf blacksmith Hanarr has the ominous power to drastically augment the physical power of the wearer by drawing upon the worst of his emotions like fear, pain, and sorrow and causing the wearer to forget the physical and physiological pains and limitations.    
The popular Berserk collectables also depict specific popular scenes from the manga, including the illustrations for the covers, as well as iconic battle scenes. All the collectables feature detailed designs that retain the dark essence of the manga itself and truly pay homage to the original artwork.