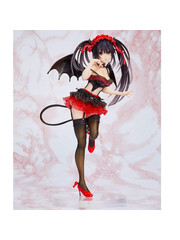 The Japanese light novel series "Date A Live" captured the hearts of its readers by reshaping the storytelling and character development in the genre. Being a title that generates the right audience in the sci-fi, fantasy, and harem genre is a difficult position to bear, but Date A Live has become a beloved light novel series that has carried out this role spectacularly. It was also releases as manga and an original anime film to engage a more diverse audience. The Date A Live series also has a spin-off light novel series titled Date a Live Fragment: Date a Bullet.
Date A Live tells the story of a boy named Shido Itsuka, who has a curious power that enables him to seal the power of spirits in his body with a willingly given kiss. The world he lives in is still recovering from a devastating occurrence known as a spatial quake, which was prompted by Spirits and wiped off the majority of humanity about thirty years ago. Now the spirit girl "Tohka" that caused the previous quake is back, and ironically, the only way to stop the devastating history from repeating itself is for Shido to gain her trust and date Tohka.
The right mix of sci-fi elements and lighthearted comedy has made Date A Live a huge cult favorite. The collectables of the sweet and charming characters are equally as famous as the originals. Of course, the most popular collectable figure from the series is that of the lovely Tohka, the literal live atomic bomb on legs. Apart from the delightfully posed high-quality PVC statues, Tohka's body pillows, Dakimakura," are also a popular choice as Date A Live collectables. The Dakimakuras are made of high-quality fabric for a soft and smooth finish. The filling is included in each piece, and both sides are printed with detailed, brightly coloured life-size images of Tohka in her signature red and black clothes with a matching headband.