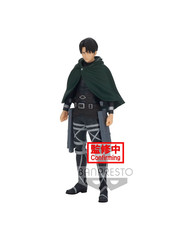 The Attack on Titan anime series has the world divided between those who firmly place it as the best anime of all time and those who are yet to agree. Based on the 2009 Japanese manga series of the same name by Hajime Isayama, Attack on Titan is set in a fictional world where humans are forced to live inside cities enclosed in giant walls to protect them against man-eating giants roaming the rest of the world. The story is a recount of the resilience of humanity against these giants and how a young group of soldiers set about to rid the world of these man-eating giants.
Attack on Titan's story takes sharp turns as it progresses, revealing friends as enemies and arch-nemeses working together for a common goal. These unexpected, fast-paced twists and turns in characters and storyline make Attack on Titan and its characters a huge fan favourite across the world. Therefore, all collectables based on the series are always in high demand and sell out like hotcakes.
The popular Attack on Titan collectables includes character statues from different seasons of the anime series, the swords and gear used by the soldiers, and different costume pieces that complement the individual characters.
The most loved character collectables from the series include items related to the male protagonist and anti-hero Eren Yeager, his hard-to-please commander Levi Ackerman, and the ever-devoted childhood friends and fellow soldiers Mikasa Ackerman and Armin Arlert. These collectables include Funko POP anime figurines and signature weapons.
The Attack on Titan collectable swords and gear are available in dulled steel metal material for decoration and themed costume design purposes and in PU foam cosplay material for attending comic cons and cosplay events. These sword gears have the signature Attack on Titan Military Survey Corps style and a working, usable handle fashioned after the vertical maneuvring gear used by the characters in the anime series. 
These authentic Attack on Titan collectables are an invaluable possession for any AOT fan.