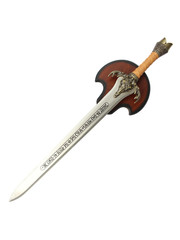 Conan the Barbarian is not just a fictional character; he is an icon of masculine power that crosses cultures and leaves deep impressions on all his viewers. The character has transcended the boundaries of the medium and, since his inception in 1932, has appeared in countless fantasy stories, comics, television series, and feature films. Whenever there is a mention of a hyper-powerful and overtly built male character, there is a reference to Conan the Barbarian, either in the original concept or the depicted material itself.
Robert E. Howard created the brave and extraordinarily strong character of Conan the Barbarian to cater to the growing pulp fiction audience in the 1930s. Born in the fictional "Hyborian Age," Conan the Barbarian was born into a simple rural blacksmith family. Thanks to his powerful physique and quick aptitude to learn all physically demanding tasks, he quickly rose to the position of an accomplished warrior, commanding impressive groups of warriors. Eventually, Conan overthrew the evil king of Aquilonia to become the Ruler of the most powerful kingdom in his world. Procuring treasures and rescuing damsels in distress on the side, Conan the Barbarian etched a place for himself in the fictional story universe.
As popular as the powerful character of Conan is, it is no wonder cosplay events always have a quintessential appearance from Conan the Barbarian. Therefore, collectable weapons of Conan the Barbarian are always in hot demand. The more majestic and sturdy-looking the weapons are, the better the overall cosplay costume; consequently, the collectables for Conan are the most hefty-looking swords and blades in the genre.
The popular swords wielded by Conan include his original sword, which belonged to his father, and the famous Atlantean sword, the impressive sword he wielded as a king. Conan's Atlantean sword is featured as grandly as Conan's throne, becoming a symbol of power for his kingdom. The collectables of both of these swords are available with metal blades that feature dulled edges and feature all the details to match the majesty of the original.